Notify other providers of an account holder's death – in one go
If you do not see the company you are looking for listed below, please add the company to your Settld form or write to support@settld.care. We'll always attempt to contact them on your behalf.
ALCS (Author's Licensing and Collecting Society)

Apetito

BackMarket

Barnardos

Benenden Health

Biffa Municipal Ltd

Bloom

Book Depository

Boots Advantage Card

Bradbury Fields

Bravissimo

British Heart Foundation

British Youth for Christ

Cancer Research UK

Central Pulse

Centrepoint Soho

Chase Community Solar

Cheshire Wildlife

Chester and North West Orchid Society

Chester Offers

Chilton Seeds

Chums

Clematis Society

Comet

Complete Savings

Costco

Craft creations

Directsave Telecom

Find My Past

Freecycle

Garden Organic

Genealogy & Herald

Greenwich Leisure

Guide Dogs

Guideposts

HCPC

Hillside herbs

Hive

Hobbycraft

HOME GUARD ONE LTD

Home Instead

Honourable Artillery Company

Hospice of the Good Shepherd

Hotel Chocolat

Iceland

Institute of Physics

Jackson's art

Klarna

Lakeland

Lending Works

Littlewoods

Long Distance Walkers Association

Lookagain

Low Carbon Hub

Macmillan Cancer Support

Malwarebytes

McAfee

Merseycare

Merseyflow

Miele

Money Week

Monsanto

Morgan Vowles Funeral Directors

Moriarty Law

MT Legal Services

Musicians Union

National Education Union

National garden vouchers

National Governance Association

Nexus

NORTEL

Northern Ireland Community Energy

NRS Healthcare

NSPCC

North West Ambulance Trust

Open University

Oxfam

PayPal

PC Pro Subscriptions

Post Office

Radio Times

Raise

Royal Mint

Sage magazine

Skype

Specsavers

Superdrug Health and Beauty Card

Sutton's Seeds

Telegraph

The Berkeley Leisure Group

The institution of Structural Engineers

The Landmark Trust

The Oldie

Thompson & Morgan

Trainline

Transport for London Oyster

TRU DIAMONDS

Vernons – gardening

Viking stationery

Virgin Wines

World Cancer Research

Yeo Valley

YMCA

YourDentist Ltd.
Most people save 20 hours of admin stress and hassle by using Settld to:
Send companies a death notification for accounts

Request closure or for the account to be memorialised 

Request marketing and emails to be stopped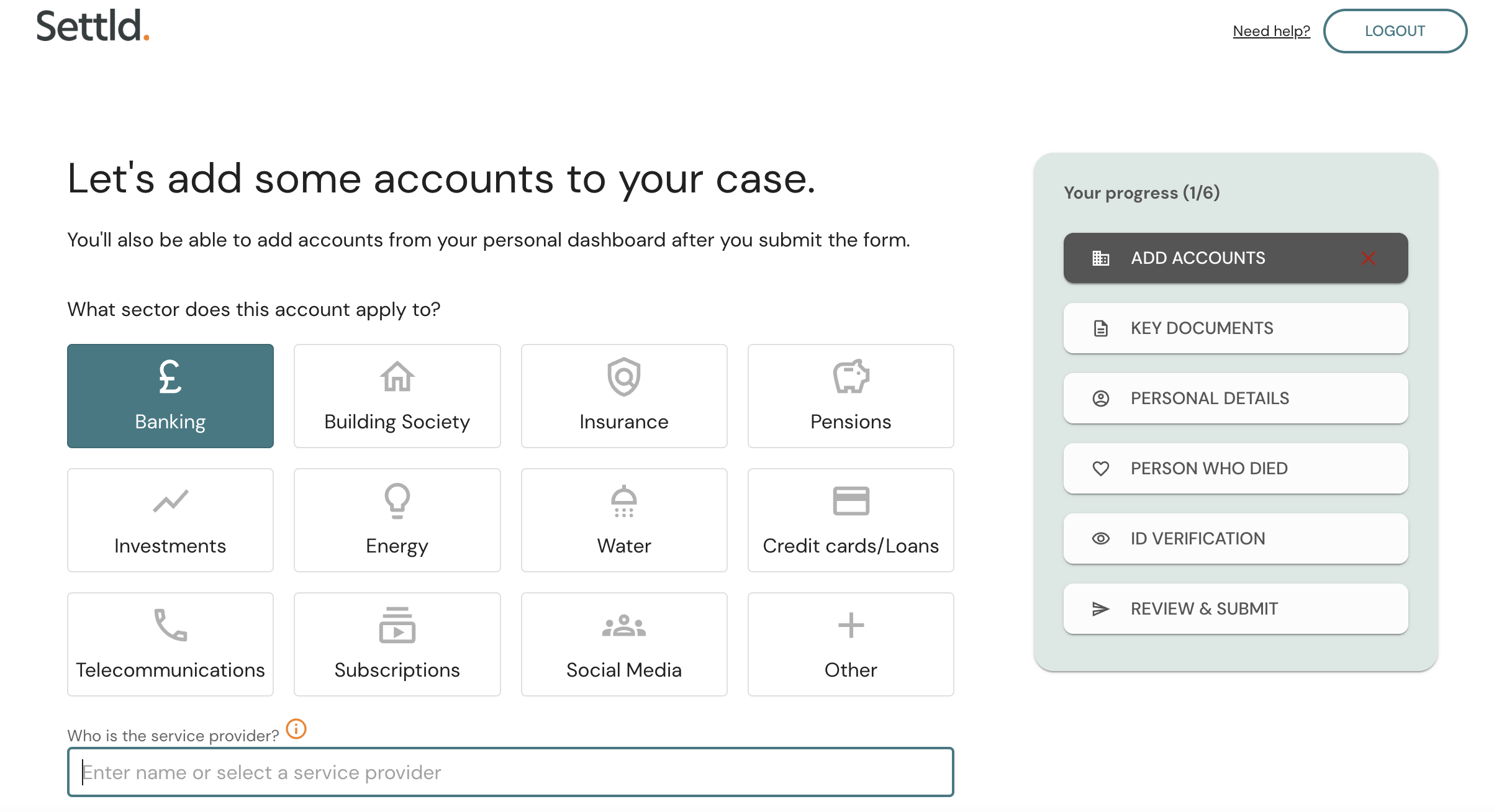 Expected timeframes
Timeframes are set by each company, independent of Settld's processes. Wherever possible, Settld works with companies to improve their bereavement processes and achieve faster resolution times. Click here to support our Better Bereavement Charter.
Common Questions and Answers