"I found the team at Settld extremely helpful, empathetic and efficient in the resolution of my late mother's affairs. I would strongly recommend Settld as a service that takes away a significant element of the administrative work associated with dealing with a bereaved estate at a time when you need it the most."

Using Settld, you only need to provide information once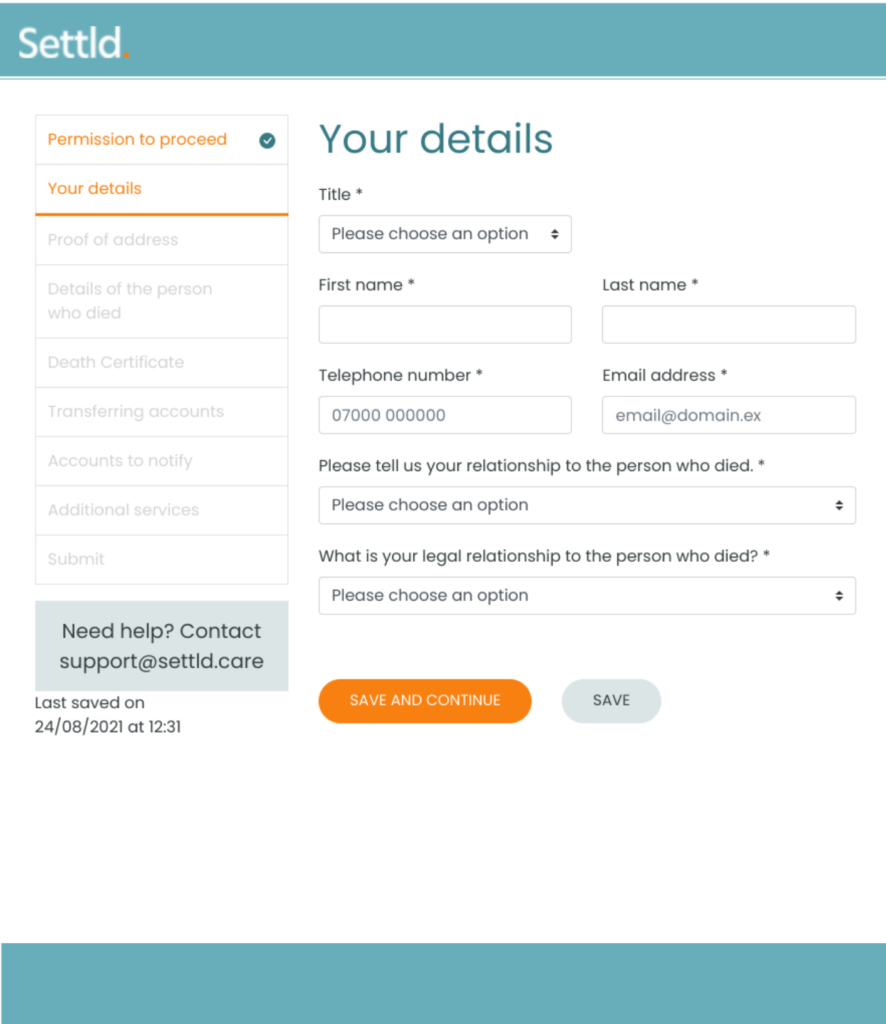 A simple service
On a single form, you can list all the companies you need to notify, upload the information that they will need to proceed, and detail what should happen to each account.
A transparent process
We will notify all of the companies you've listed, at the same time, and we'll follow up delays on your behalf. We'll make sure you're always updated, and we'll let you know when everything you've requested has been completed.
You can check progress online at any time and we're always here to help if you need us.
Settld is a secure service
Data encrypted at transit
Multi factor authentication
Data stored in ISO27001 certified UK data centres
Common Questions and Answers
How do I fill in the form – what's involved?
Settld.care Team
2021-08-18T16:16:21+00:00
Go to the Get Started button and fill in your email address and phone number on the registration page. You will then receive an email with a link to the form: there's a step-by-step guide on every page, and you can save the form and come back to it at any point.
Details: when you start the form, you'll be asked to give Settld permission to notify companies on your behalf. You'll then need to provide your details, details of the person who has died, and the contact details of any other executors of the estate.
Documents: we'll ask you to provide a number of scans or photographs of the documents companies will need in order to process your requests. These include: proof of your address; the death certificate; and the title & signatory pages of the will (if there is one).
Accounts: then you can select all of the accounts you want to notify and add them one by one.
Once you have completed  the form, you will be asked to complete an identity check. The identity check is carried out to protect you against fraud and you must complete it in order for us to start processing your notification.
Please note: 
You can save progress at any point and return to the form later using the original link provided
Once you've submitted the form you can't edit it. If you realise you've made a mistake, or need to add additional information / another account at any point, just email support@settld.care
Settld is constantly updated so you can check the progress of your different accounts at any time on your case page
If you have questions at any point, we're here to help – please just send us an email (and if you'd prefer to speak in person, request a call back and we'll call you right back).
Consistently rated a 5 Star Service
Helpful, patient and supportive
at a difficult time
A much needed service
saving time consuming administration
Thorough and professional
throughout the whole process
If you have further questions, please email support@settld.care